Niagara Falls Falcons 14U - 2022 AA OBA Champions
---
---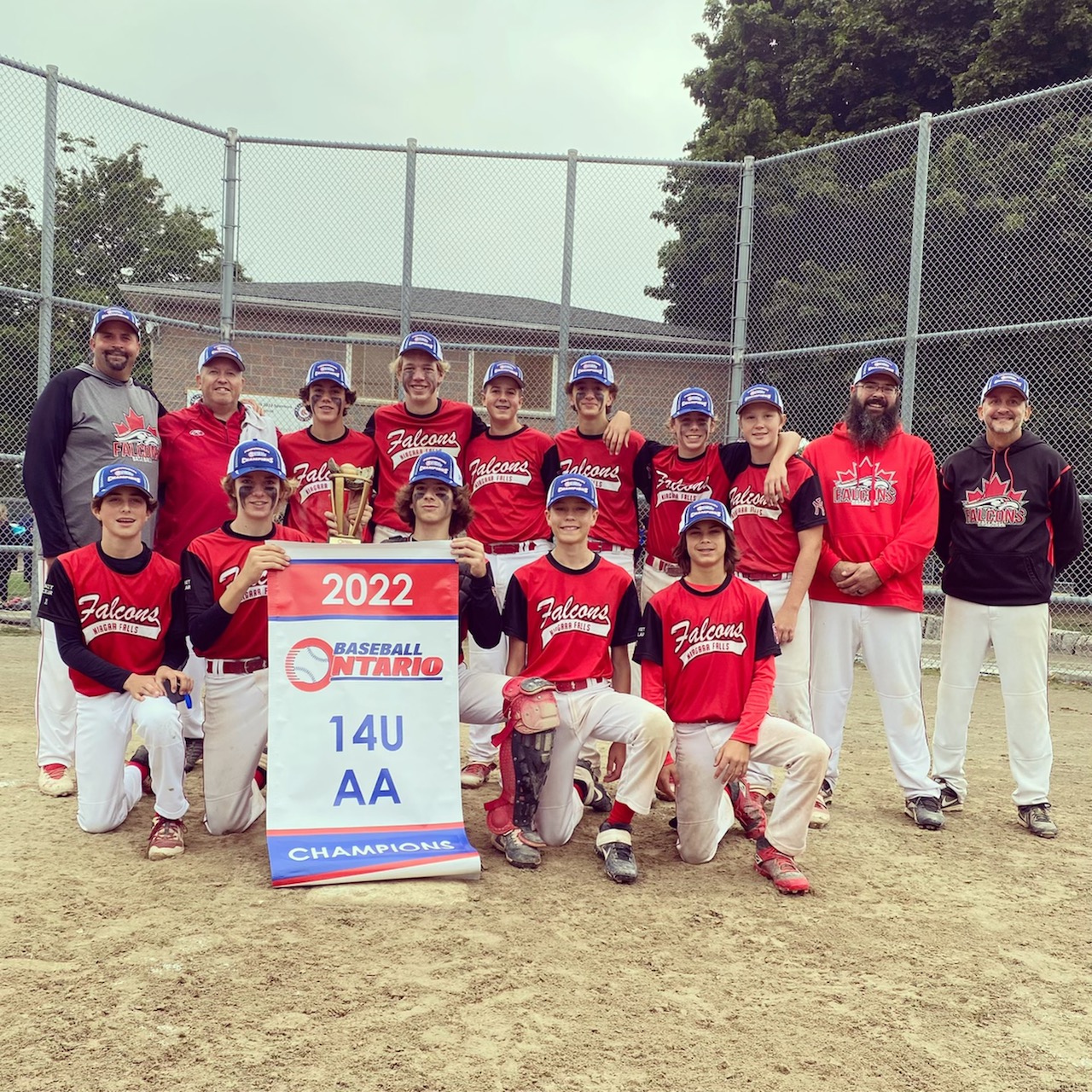 ---
The 14U Niagara Falls Falcons are AA OBA champions!
The road to the championship victory was a long and grueling one as it went the full seven rounds. In the first round, the Falcons narrowly defeated Caledon by an 11-10 score. This indecisive victory, in part, led to the Falcons being walked off by Lasalle 10-9 in round two. Facing elimination in round three, the Falcons faced a familiar foe in Halton Hills. For the third time this season the Falcons narrowly defeated Halton Hills. The score this time was 5-3. Round four saw a rematch against Lasalle and, though the game was close for three innings, the Falcons laid the smack down and won 18-4.
In the final four, the Falcons drew a very formidable opponent in Clarington. They had only lost four games the past two seasons and won the 13U AA August madness last season. Not only did the Falcons beat them in round five, but they came back and beat them again in round six. The respective scores were 16-6 and 14-2. Brantford, who drew the bye in round six, was now the only team left standing in the way of OBA glory. Despite the OBAs being in Brantford, the Falcons were more than up for the challenge. Brantford jumped out to an early 3-1 lead but that was all they could muster as the Falcons went on to a convincing 14-3 victory to decisively win the championship.
The coaches, John Aanen, James Babin, and Joe Covelli, could not be any prouder of these boys. It was a team that was destined, since losing in the 2019 11U AA OBA final, to go to the distance. The blend of seven returning and four new players was the difference this season. Every single player, regardless of their role, contributed to this OBA championship. May I present, therefore, your 2022 14U AA OBA champions: Marshall Aanen (catcher), Patrick Babin (P/CF), Anthony Covelli (SS/P), Luke Cukierski (P/1B), Noah Etherington (LF/2B), Connor Garrett (OF/C/MIF/P), Lukas Goodbrand (RF/P/1B), Hudson Kipp (IF, P), Stirling Koppejan (IF/P), Simon Sciarra (LF/2B) and Jordan Wright (OF/3B).
Congratulations Falcons